The American Pioneer Series
This is a small selection of North Carolina biographical and genealogical data found in The American Pioneer Series by Jeannette Holland Austin. To enjoy the full 29 volumes, become a member of
Virginia Pioneers
Mark Thornton, Sr.
was born ca 1705/1719 in Virginia and resided in Lunenburg County removing to Warren County, North Carolina in 1766. His deed dated 30 Sept 1766, Mark and Elizabeth Thornton, wife, deed to Warren Beauford 230 acres of land. He ultimately removed Elbert County, Georgia where he died in 1809. His second marriage was to Suzannah Dozier in Lunenburg County. Their sons were: Dozier, Mark Jr. and William Thornton.
Anyone tracing this family naturally also traces the Dozier family from France.
Ref: Historical Southern Families, Volume XII. (1968) by Mrs.John Bennett Boddie. Pages 1-89; Thornton Family by Rear Admiral W. N. Thornton.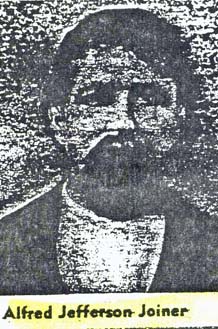 Alfred Jefferson Joiner
was born 14 October 1827, died 1904. He was married to Priscilla Frances Collins (born 14 April 1830)on 20 November 1847. Alfred's father, Asa, was a pioneer settler to Omaha, Georgia, in Stewart County, having migrated from Nash County, North Carolina. Asa was active in the affairs of the Summerhill Baptist Church and was elected Marshal of the church Camp Ground in 1843, 1844 and 1845. In 1852, Asa sold his land in Stewart County and followed his eldest son, Alfred, to East Baker County and settled there in the Pine Cliff Communith (southwest of Camilla and six miles from Newton). There they joined the first Grand Jury in Mitchell County (1858) after Mitchell was created from Baker County. They were charter members of the Evergreen Baptist Church when it was organized in 1857.
Ref: Georgia Bible Records by Jeannette Holland Austin, (1985), Genealogical Publishing Co., pp. 249; History of Stewart County.